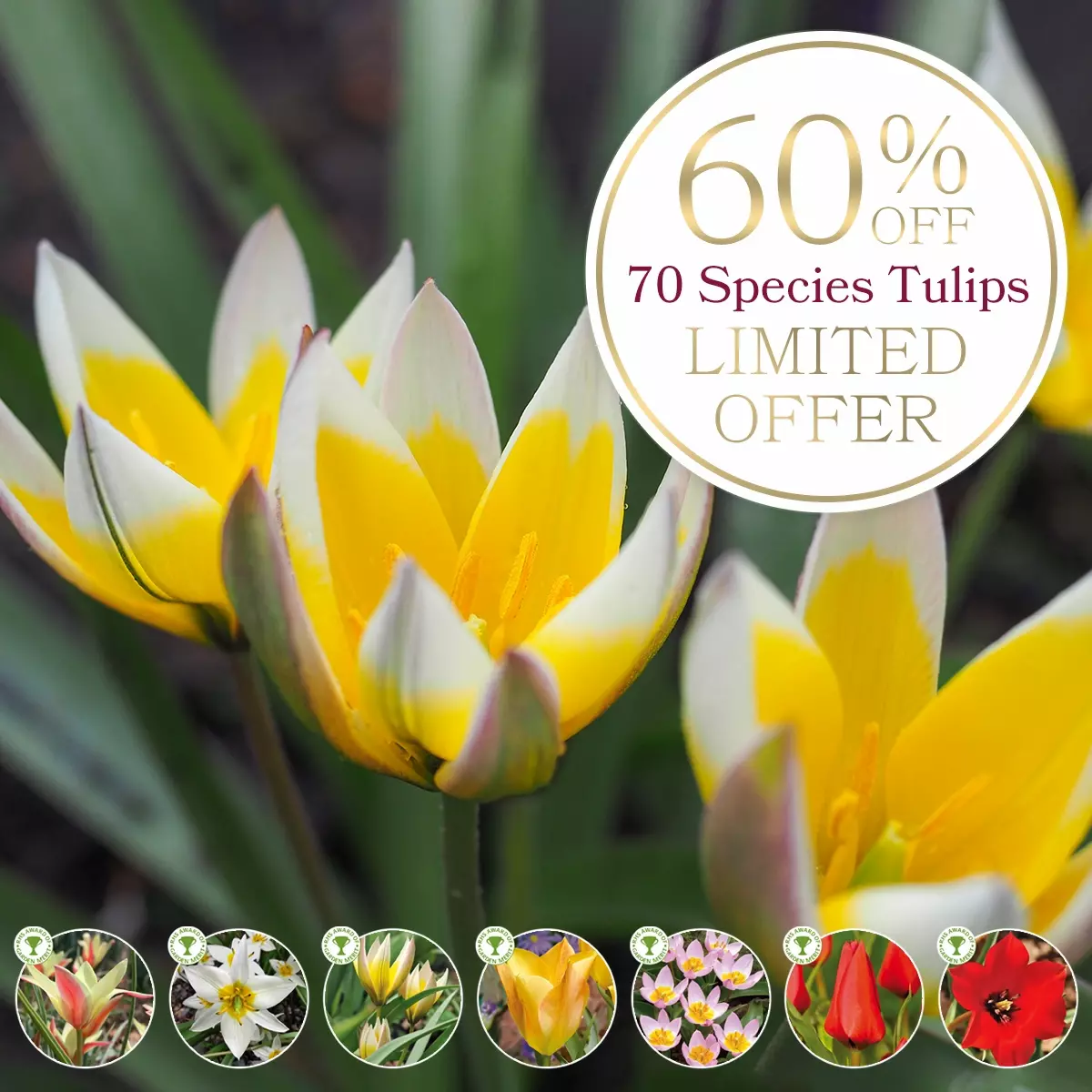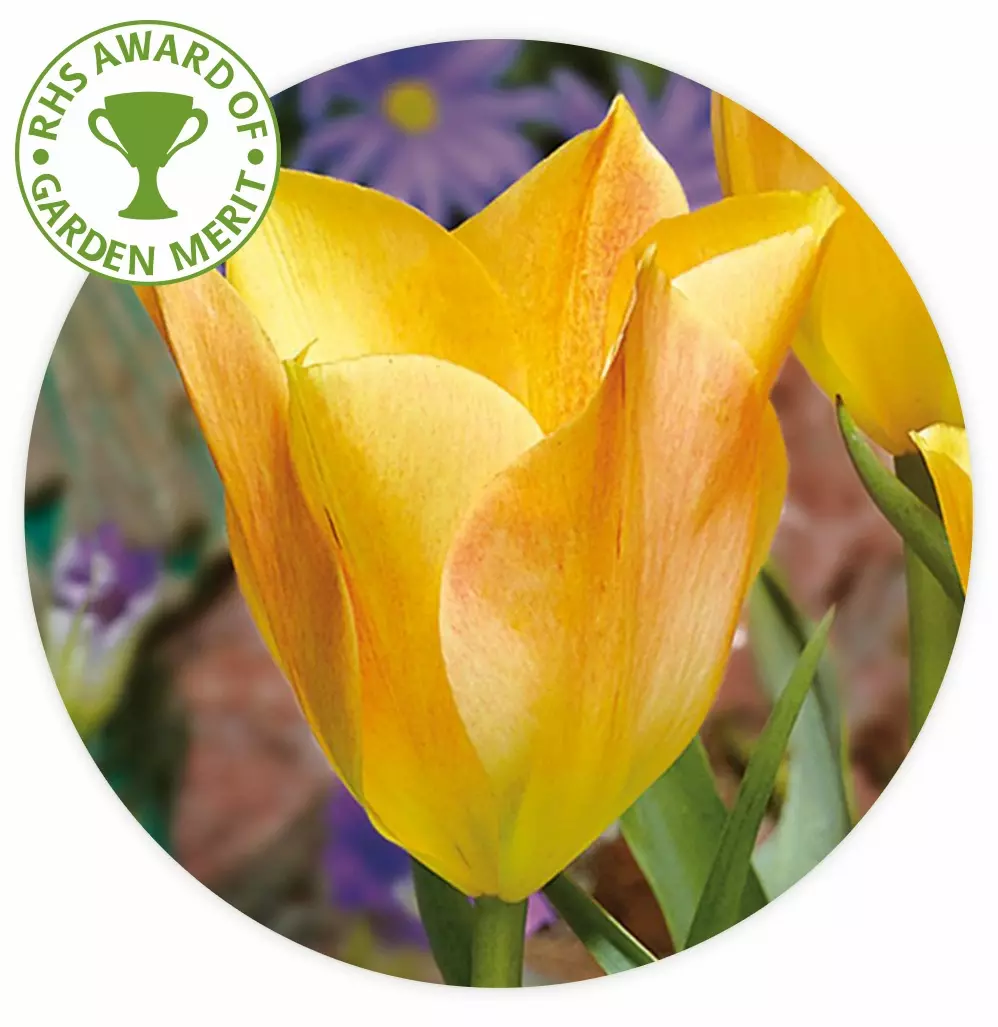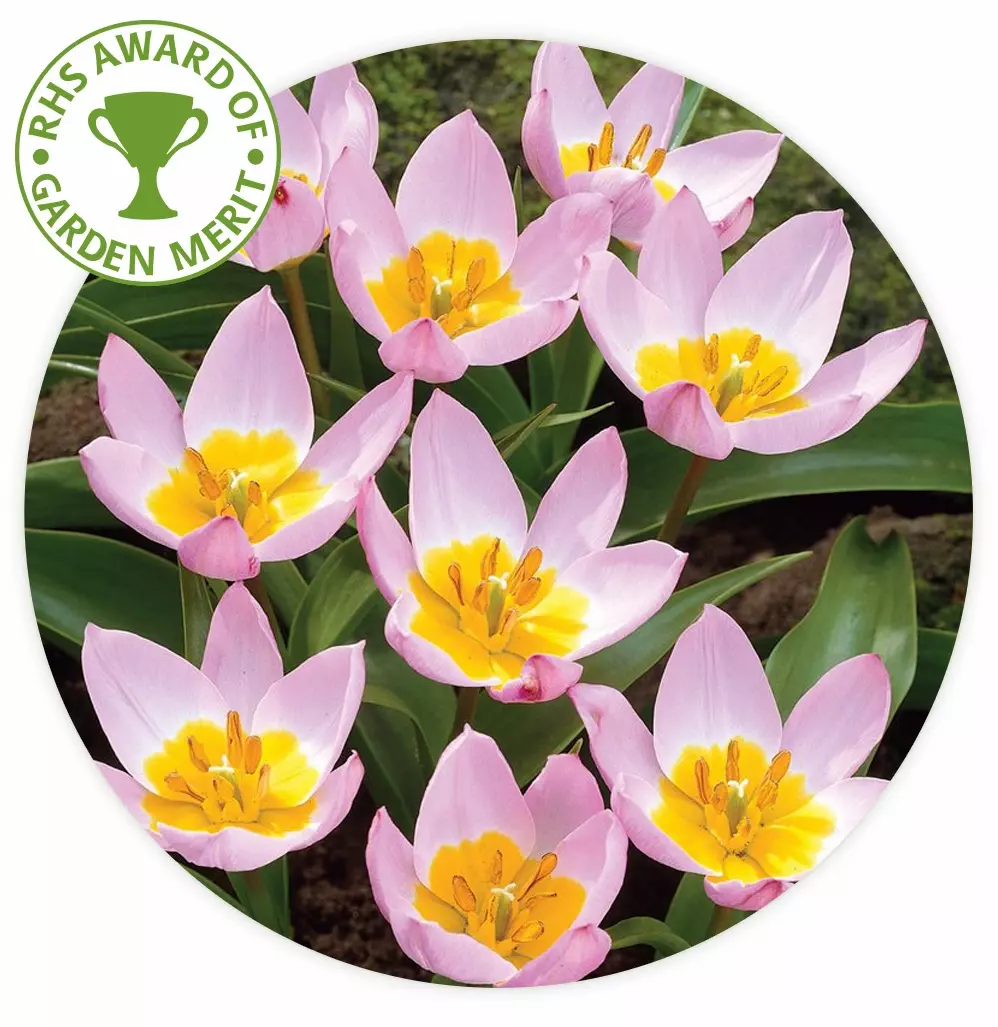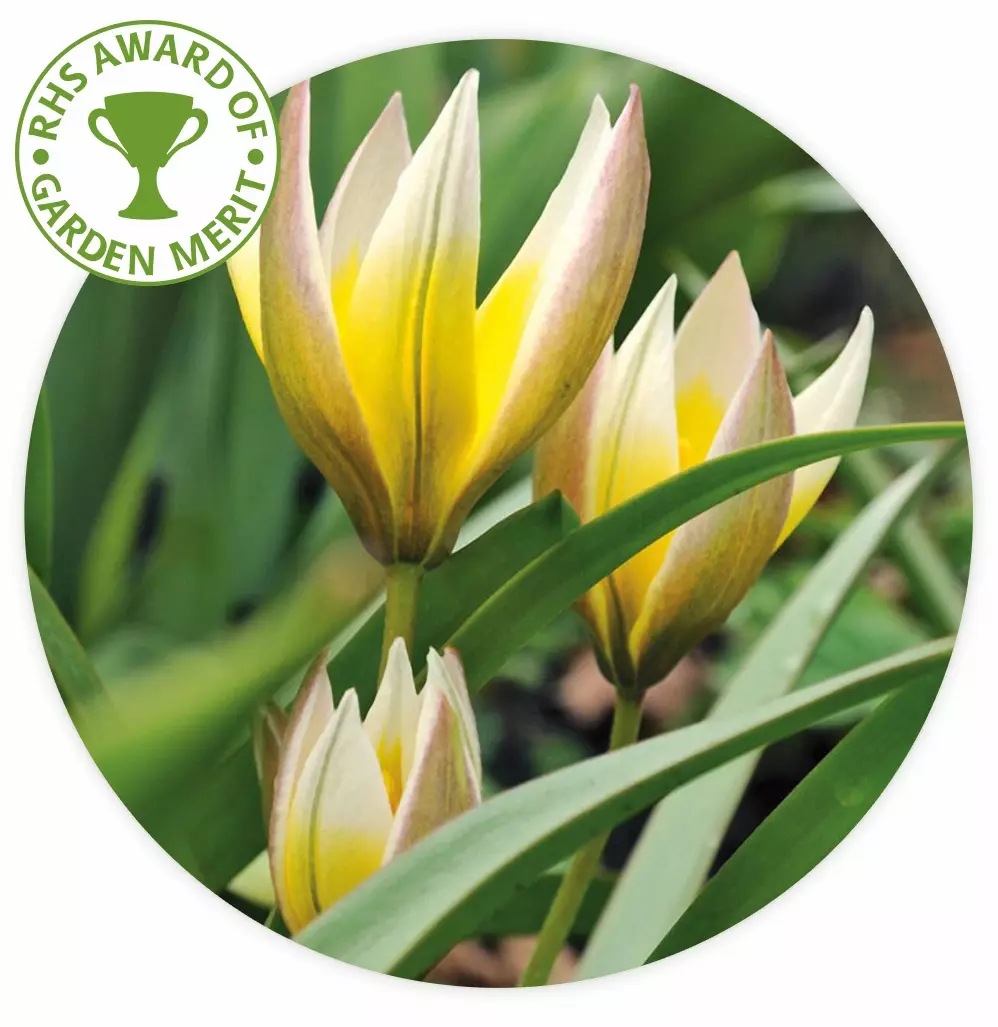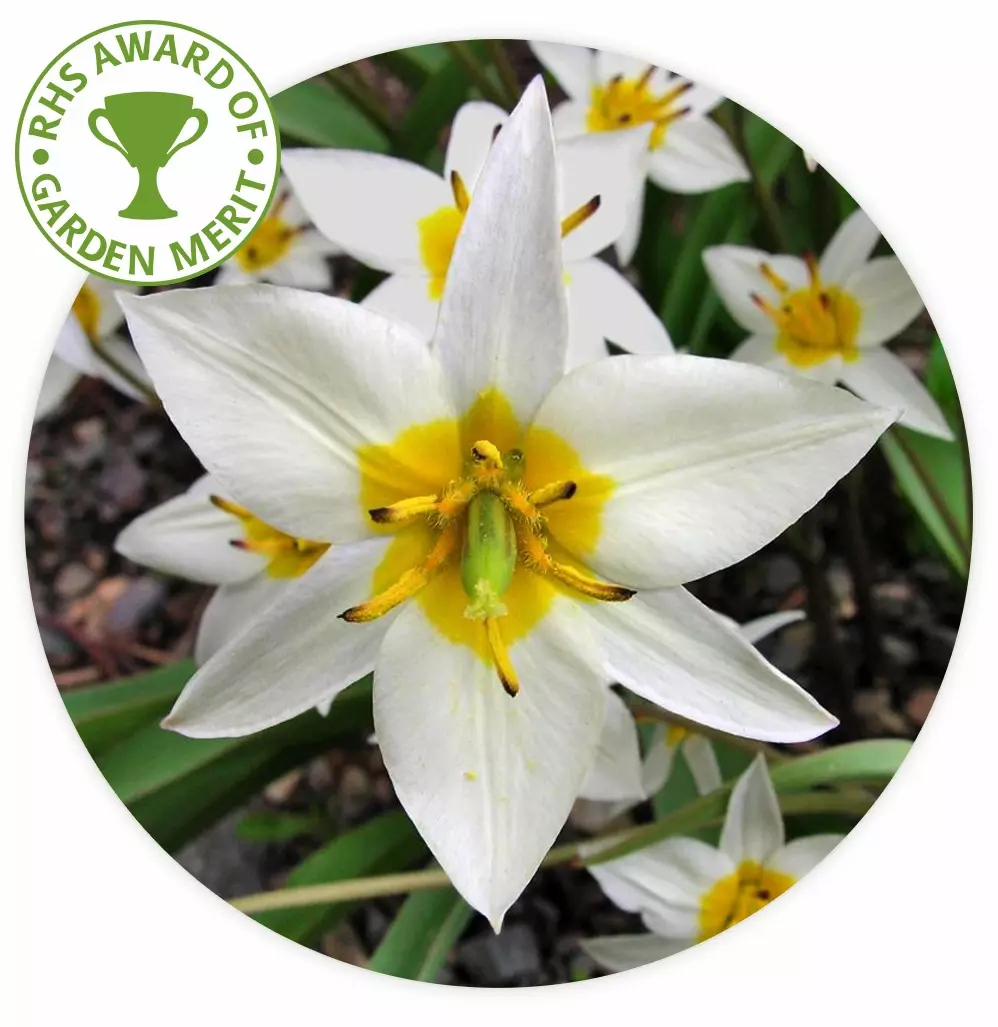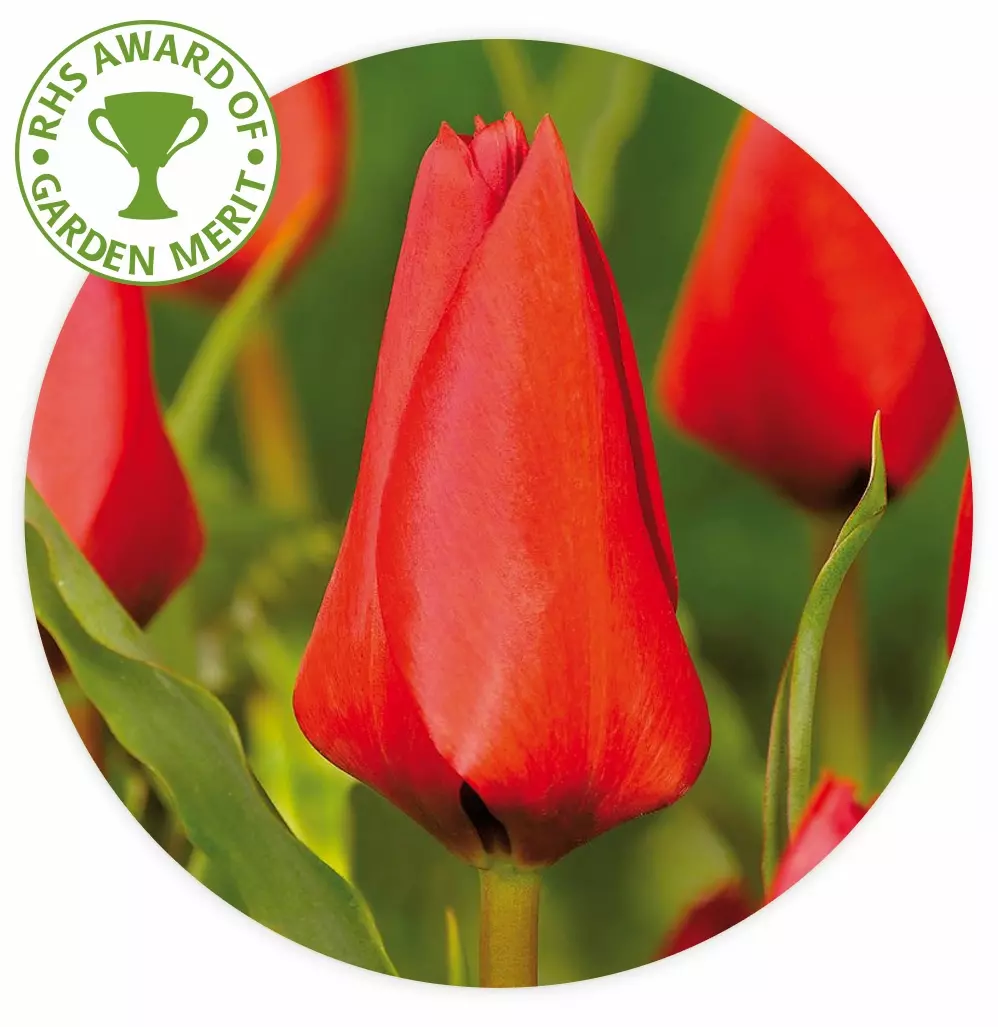 Details
Flowering Time

January

February

March

Early April

Planting Time

RHS Recommended

Perfect For

Flowering Height

Bulb Size
70 Award Winning Species Tulips Limited Offer
CAM08
70 Award Winning Species Tulip bulbs. Normal retail price £44.60 + £5.95 p&p. O
ne time offer price £19.99 + FREE p&p
There is every chance that you, like me, love a tulip. However, there is a type of tulip which is extraordinary, beautiful, and because of their scarcity, seldom seen in British gardens. Let me explain.
In every garden you see thousands of similar-looking tulip varieties…all of which are hybrids. Yet, there are a few exclusive tulips which are pure, and have never been crossbred nor interbred. These pure tulips are called SPECIES TULIPS. Species Tulips are hard to come-by, and what is even harder to come-by, are Species Tulips which have been awarded the RHS Award of Garden Merit.
As you know, de Jager acquire the quality-end of the Dutch bulb harvest and have specialist contacts throughout Holland. Due to this, I have succeeded in obtaining for you, a collection of top-sized award-winning Species Tulips. So, if you are an individual who prefers quality, style and growing tulips which set you apart, perhaps act promptly because there are only enough bulbs for the first 300 customers to grow this unique collection.
We all love a bargain and I trust you agree this is an excellent offer:
70 Species Tulip Bulbs across 7 varieties, all holding the RHS AGM for outstanding garden performance, for £19.99 with Free P&P. The normal price for these bulbs is £44.60 plus £5.95.
Here are the varieties you will have flowering next Spring
…
10 x Batalinii Bright Gem
The primrose yellow flowers of the Species tulip 'Batalinii Bright Gem' are perfectly illuminated by warm spring sunshine, highlighting the streaks of amber and apricot which suffuse the petals. This dainty jewel features fine, silvery foliage, enhancing the brightness of the blooms. Despite their petite size and delicate leaves, Species tulips are resilient and truly perennial, happily naturalising amongst grass and in borders. 'Batanii Bright Gem' tulips are equally effective dotted in containers, where you will be able to admire their bantam beauty close at hand. Flowering slightly later than other Species varieties, this charming Heirloom tulip will extend your display throughout spring.
10 x

Clusiana Cynthia

Otherwise known as the 'golden lady tulip', 'Clusiana Cynthia' is a petite, gilded beauty, exuding elegance, and style. Flashes of raspberry red and chartreuse green are painted on a buttercup yellow background. Elongated, pointed buds open to fluted, star-shaped blooms on slender stems above fine foliage. Despite a refined appearance, this Species tulip is resilient and vigorous, boasting the accolade of an RHS Award of Garden Merit for reliability in the garden. These enchanting blooms are perfect for filling patio pots for an early display, and to dot amongst grass and borders for a tapestry of colour as the bulbs gradually naturalise.
10 x Lilac Wonder
Discovered growing in breath-taking swathes on the mountains of Crete, 'Lilac Wonder' is a sensational Species tulip. Misty lavender petals spread out to form a bowl-shaped star, disclosing a clearly demarcated, bold yellow heart. The perky, playful, diminutive blooms dance above ribbons of glossy foliage. This sun-loving variety is well suited to adorning rock gardens, filling gaps at the front of borders, dotting amongst the lawn, and packing into pots. A superb variety for naturalising, providing carpets of colour year after year, 'Lilac Wonder' has received an RHS Award of Garden Merit for dependability and exceptional garden performance.
10 x Linfolia
Like a sweep of orange-red lipstick paired with a winning smile, the brilliant, vermillion blooms of 'Linfolia' are sure to turn heads. Pillar-box red buds unfurl to reveal an ebony centre, with shapely petals tapering to a narrow point. 'Linfolia', otherwise known as the flax-leaved tulip, perches atop narrow, glaucous foliage with strong, wavy edges. Flaunting a coveted RHS Award of Garden Merit for its consistently high performance in the garden, this enthralling Species tulip naturalises eagerly to form bold clumps. This crimson femme fatale will be a striking addition to rockeries, lawns, borders, and container displays.
10 x Tarda
One of the most prolific Species tulips, 'Tarda' teems with a throng of joyous, star-shaped blooms. Featuring a broad centre of cheerful, primrose yellow, each petal is tipped with pristine white. The undersides of the plump buds are painted with delicate strokes of mauve, sepia and green – best appreciated when backlit by the morning sun. Flowering freely with up to 6 heads per stem, these botanical tulips put on an exuberant show, brightening borders, lawns, rockeries, pots. 'Tarda' is wonderfully reliable and perennial, naturalising and self-seeding happily, and has consequently been granted the accolade of an RHS Award of Garden Merit.
10 x Turkestanica
Bearing an astounding 9 or more snow-white flowers per bulb, 'Turkestanica' boasts a dramatic, densely packed display. A buttercup yellow core glows beside the surrounding, immaculate white petals which feature a green and bronze flush to the exterior. A supremely elegant heirloom tulip for incorporating into containers, rockeries, borders, and lawns. This is the ultimate variety for naturalising into drifts of dancing blooms. Particularly remarkable for its equally attractive seed-heads, which scatter freely to expand the show even further. The RHS has conferred an Award of Garden Merit upon 'Turkestanica' in acknowledgement of the reliability it offers in the garden.
10 x Red Hunter
The Little Red Riding Hood of the tulip world, 'Red Hunter' is draped in a cloak of distinctive scarlet petals. With resplendent, showy blooms enhanced by slender, bright green foliage, the petals open fully during the day to reveal a jet-black centre. This tulip makes a makes a bold and brilliant statement in containers, rockeries, borders and lawns. 'Red Hunter' will soon naturalise into swathes as though someone has unrolled a red carpet in your garden for you to parade along. The RHS has presented this noteworthy variety with an Award of Garden Merit in honour of its reliability and robust character.
If you decide to stand out from the crowd and grow a sought-after pure form of tulip, then these are for you. Choose to be one of only 300 British gardeners to receive this collection, and press the 'Add to Basket' button above, then 70 Species Tulip bulbs will be readied and assigned with your name. (*Whilst stocks last).
Care Guide
Jan
Feb
Mar
Apr
May
Jun
Jul
Aug
Sep
Oct
Nov
Dec
Planting Time
Flowering Time