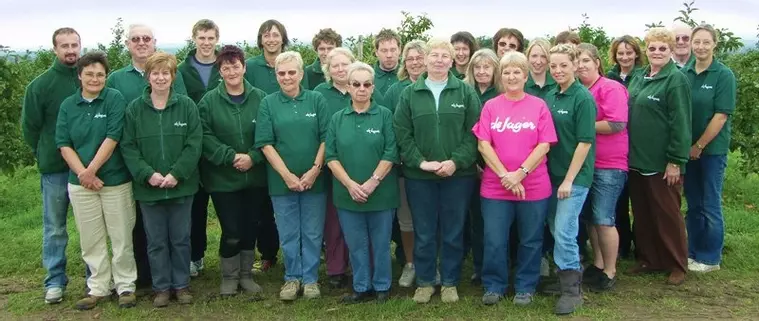 About Us
P. de Jager & Sons Limited was started 155 years ago as flower bulb specialists and still maintains its remarkable reputation for producing only the highest quality and top-sized bulbs available anywhere in the world, a tradition firmly established by its founder, Peter de Jager.
Originally established in 1868 by Peter de Jager in the town of Heiloo, Holland. His two sons took over the running in 1920 and expanded the company. Dealt only with Holland, exporting to the individual customers in the UK.
At the beginning of the Second World War (1939) the business ceased but was re-established after the war (1945) being based in London.
No longer viable to pack and ship bulbs direct to customers from Holland so premises were found in Marden, Kent under the ownership of Dick and Thelma de Jager. This resulted in the bulbs being shipped in bulk from Holland, distributed to our customers more quickly and efficiently.
Thelma de Jager retires in May 2008 and loyal customers George and Rose Clowes purchase de Jager and ensures the company has a growing future.
In June 2008 the new de Jager website was launched and praised for its design and product images.
At the beginning of 2009 we introduced a new design of catalogue which was well received. George Clowes also made the first of many appearances on QVC promoting a range of products with the message 'bigger bulbs are better'.
During Spring 2010 the first de Jager Tulip Festivals celebrated the versatility of the fabulous tulip. Over 150,000 are being planted across eight historic locations in England including Chatsworth.
In June 2010 as business continued to expand we moved into new large premises at Church Farm, Ulcombe. Kent. ME17 1DN.
In Spring 2011 saw the launch of an new association selling unique and highly innovative Pictorial Meadow Seed Mixes. These mixes were developed over a number of years at the University of Sheffield and a winner at Chelsea Flower Show.
de Jager Fresh Flowers is introduced with a range of spectacular hand-tied bouquets featuring seasonal selections of top quality, freshly cut flowers from leading growers.
In December 2012 we were extremely proud and deeply honoured to be granted a Royal Warrant, appointed Supplier of Garden Flower Bulbs to HRH The Prince of Wales. A huge tribute to all the team at de Jager and to our top quality, top size bulbs.
May 2014 celebrates the launch of de Jager Young Plants with a catalogue of premium young plants that are unique and different to others in the market.
May 2015 introduces our new look website which has been redesigned to provide an even more user-friendly experience with improved navigation and compatibility with mobile devices.
We continue to supply only top quality and top size bulbs to all our customers, whether their orders are for a stately home or just a window box. The same grade bulbs will be sent. So when you next visit a garden open to the public and are admiring all the glorious colours, just remember that with a little time and effort you too could create the same, although probably on a smaller scale but it will still give you that satisfaction when you sit and admire all your hard work.