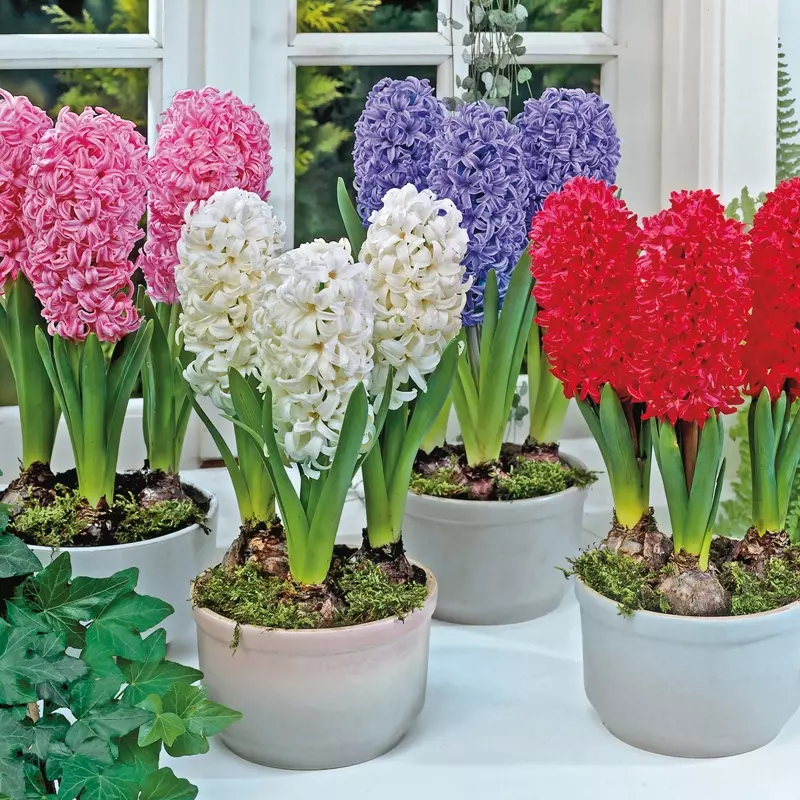 Details
Perfect For

Indoor Flowering

Pots & Tubs

Scented

Flowering Height

Bulb Size
Hyacinth Special Indoor Collection 1
SFC11
A pretty, thoughtful, and tonal quartet of spring Hyacinths, designed to bring colour and exquisite scent into the home during the depths of winter.
The collection contains varieties 'Pink Pearl,' 'White Pearl,' 'Delft Blue' and the carmine-pink 'Jan Bos.'
These specially prepared bulbs have been treated to flower earlier than they would outdoors in spring and can be timed to bloom for Christmas. Despatched in September, these superior bulbs are best planted shallow; in bowls and containers of bulb compost, or placed in a special hyacinth vase above water then stored in a cool, dark place. Keep them there until the beginning of December when they can be brought out into the light.
Both 'Jan Bos' and 'Delft Blue' have been granted a prestigious Award of Garden Merit from the RHS for their exceptional beauty and reliable qualities.
Care Guide
Jan
Feb
Mar
Apr
May
Jun
Jul
Aug
Sep
Oct
Nov
Dec
Planting Time
Flowering Time